Tesla Model S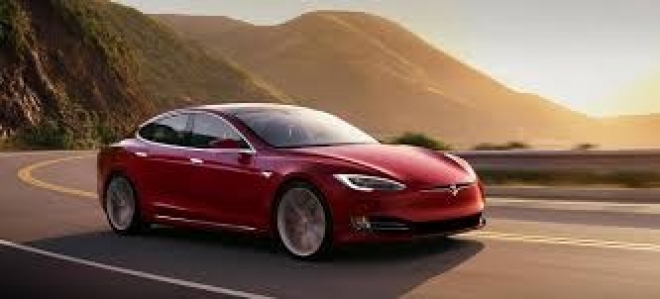 Performance and safety refined
Tesla's Model S is designed from the ground up to be the safest, most exhilarating sedan on the road. With unparalleled performance delivered through Tesla's unique, all-electric powertrain, Model S accelerates from 0 to 60 mph in as little as 2.5 seconds. Model S comes with Autopilot capabilities designed to make your highway driving not only safer, but stress free.
Tesla Mode S currently sits in the range of, 100.000 € to 200.000 €, depending on model specifications. Range varies from 408 km to 613 km.
Single Engine
The Tesla Model S P60 has a three phase, four pole AC induction 382 hp (285 kW) and (430 Nm) rear-mounted electric motor. The battery capacity is 60Kwh.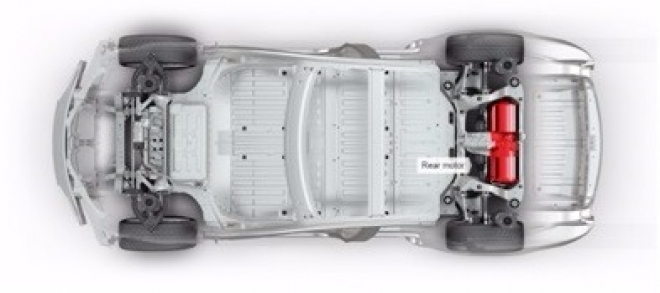 Dual Engine
The Tesla Model S P90D has two three phase, four pole AC induction motors rear and front-mounted. The combined output of the two motors is 762 hp (568 KW) and (967 Nm). The battery capacity is 90Kwh.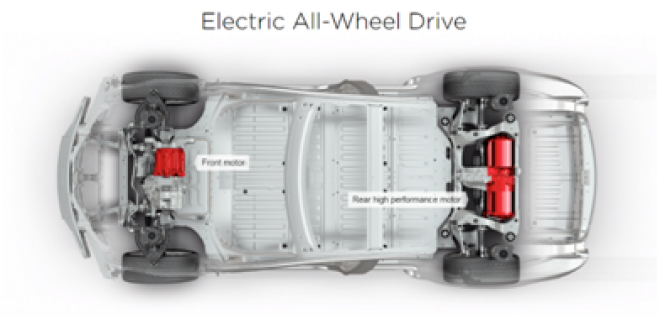 Traction
The motor are directly coupled to a single speed gearbox, above the rear axle. The simplicity of a single gear ratio reduces weight and eliminates the need for complicated shifting and clutch work. The elegant motor does not need a complicated reverse gear – the motor simply spins in the opposite direction.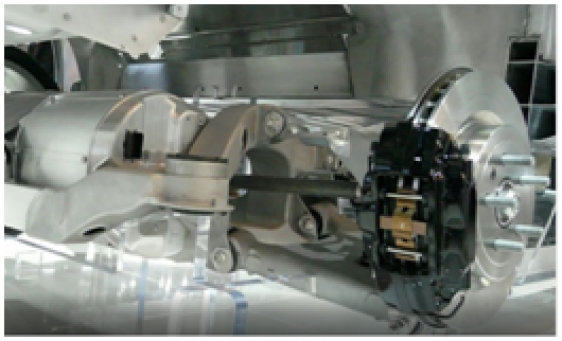 Battery
The 85 kWh battery pack weighs 1,200 lb (540 kg), which is equal to about 26 % of the car´s total weight. It contains 7,104 lithium-ion battery cells in 16 modules wired in series (14 in the flat section and 2 stacked on the front). Each module contains 6 groups of 74 cells wired in parallel, the 6 groups are then wired in series within the module. As of June 2012, the battery pack used modified Panasonic cells with nickel-cobalt-aluminum cathodes.
It comes with an 8-year, infinite km warranty.
Cooling
Tesla's thermal management uses liquid Glycol as a coolant. The cooling system uses a specific type of G-48 ethylene-glycol coolant. Tesla's systems transfer this heat to a refrigeration cycle and use electric resistance heating in cold weather. Glycol coolant is distributed throughout the pack to cool the cells. Considering that Tesla has 7000 cells to cool this is a challenge. The coolant system contains 11 liter coolant.
Charging
Tesla designed its Model S to allow fast battery swapping. The Supercharger is a proprietary DC rapid-charging station that provides up to 135 kW of power, giving 85 kWh vehicles an additional 180 mi (290 km) of range in about 15–30 minutes. Mobile connector. Most outlets are either standard 110 volt outlets or higher powered 240 volt outlets. Higher powered outlets charge between four and six times faster than standard household outlets.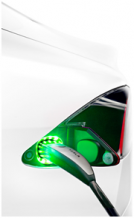 Tesla Modes S construction
The Tesla Model S body and chassis are built almost entirely from aluminum, which comes from bauxite ore. Aluminum is lightweight, which helps to maximize the range of the battery
The underbody of the Tesla Model S is made from ultra high-strength titanium, which protects the battery from nearly any roadside force or piercing.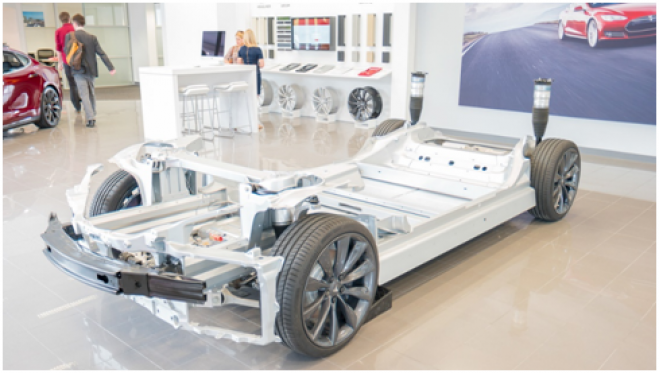 Maintenance
Regular scheduled maintenance 12 months or 20.000km
Brake fluid change every 2 years or 40.000 km.
Battery coolant change every 4 years or 80.000 km.
Daily maintenance: Check battery charge level Check wipers/turn signals/washers etc Check
brakes/parking brake Check to make sure no liquids coming out bottom of car
Monthly maintenance: Check mileage for possible change of tires Washer fluid level Check A/C
Other maintenance: Rotate Tires every 8000 km Maintain tire pressure.
Auxiliary 12v battery
The 12V battery in the Model S performs many of the same duties as it would in any internal combustion engine (ICE) car.The connections to the 12V battery on a Model S appear to be a bit more complex than in a traditional ICE as seen in the following picture.
The 12V battery maintains power for critical systems when the main battery pack is damaged or disabled. It powers the hazard lights, airbags, door locking and unlocking operations, as well as other critical componets of the Model S. The 12V battery also ensures that electronics are "awake" and listening to the key in order to automatically lock and unlock the vehicle based on proximity.
It also allows the car to maintain its 3G connection for remote access when the rest of the vehicle is powered off. If the 12V battery happens to fail, it will isolate the main battery pack from the car and prevent charging. This is a safety feature of the Model S designed to help protect first responders in the event of an accident.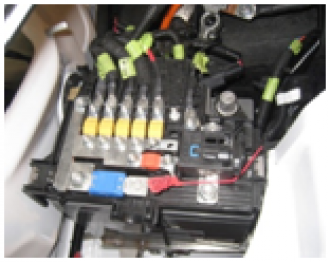 Tesla Model S P85 specs.
Consumption
CO2 emissions in g/km - [0]
Range and charging duration
Electric range in km - [426]
Capacity of lithium-ion battery in kWh 85
Standard charging AC with 16A (80%) 6.5
Performance
Top speed (km/h) - [210]
Acceleration 0-62 mph (sec) - [4,4]
Transmission
1-speed fixed gear (9.73-1)
Weight
Curb Weight (EU) (kg) - [2108]
Engine Spec
Three phase, four pole AC induction
Power [310 KW], [416 Hp]
Max torque (Nm/rpm) 600 / 0-5100 rpm