Basic concepts of electric motors
Convert electrical energy into mechanical energy
The​ mechanical power depends on its ability to admission of electric power. Their efficiency is not 100% (generate heat as subproduct).
They are reversible: they act as generators
​They can convert mechanical energy into electrical (matter of control).
The energy conversion takes place for the interaction of two magnetic fields that attract and repel consistently to produce useful mechanical energy.
Electromagnetism
Any electric current produces a magnetic field around it when the intensity of the magnetic field changes at a location, automatically a reaction electric field (voltage) is produced. This induced voltage tries to create a current that generates a magnetic field opposing the change.
Magnestism
There are materials in which the fields are aligned, reinforcing and manifest macroscopically: Magnets
There are materials (ferromagnetic) that in the presence of an external magnetic field aligns the internal fields and thus become temporary magnets: Electromagnets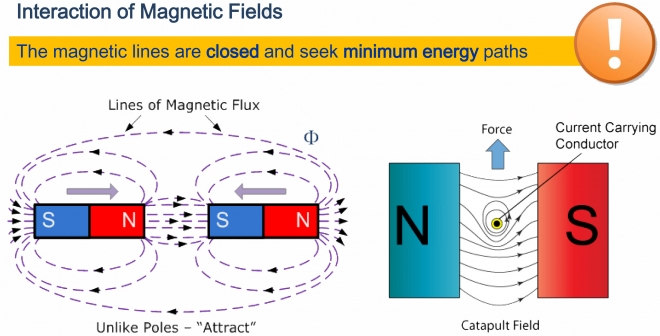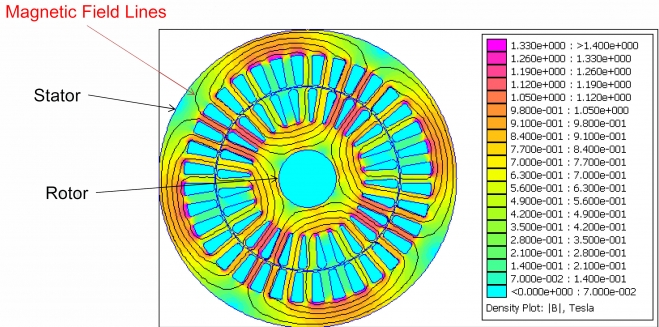 The energy conversion takes place for the interaction of two magnetic fields that attract and repel consistently to produce useful mechanical energy.
The stator field is generated by the electric current supplied to motor. The rotor field is produced by permanent magnets or is induced:
By currents induced in the conductive material generating a magnetic field of reaction.
For magnetic pole teech induced ferromagnetic material (reluctance motors)
Topologies
Differing from the industrial applications of motors, the motors used in EVs and HEVs usually require:
Frequent starts and stops,
High rates of acceleration/deceleration,
High torque and low-speed hill climbing,
Low torque and high-speed cruising,
And a very wide speed range of operation.
The motor drives for EV's and HEVs can be classified into two main groups, namely the commutator motors and commutatorless motors.
Commutator motors mainly are the traditional DC motors, which include series excited, shunt excited, compound excited, separately excited and permanent magnet (PM) excited motors. DC motors need commutators and brushes to feed current into the armature, thus making them less reliable and unsuitable for maintenance-free operation and high speed. In addition, winding excited DC motors have low specific power density. Nevertheless, because of their mature technology and simple control, DC motor drives have been prominent in electric propulsion systems.
Technological developments have recently pushed commutatorless electric motors into a new era. Advantages include higher efficiency, higher power density, lower operating cost. They are also more reliable and maintenancefree compared to commutator DC motors. Thus, commutatorless electric motors have now become more attractive.
So Inside the wide world of types of Eletric Motors, three more suitable for EV/HEV are: (link to see main characteristics):
SWITCH RELUCTANCE MOTOR (SRM). No magnets, simple construction inexpensive, more complex control.

PERMANENT MAGNET SYNCHRONOUS (PMSM). The higher power density but problematic manugacture great powers.

INDUCTION MOTOR (IM) ASYNCHRONOUS MACHINE. Robust, Low cost, power density is not as good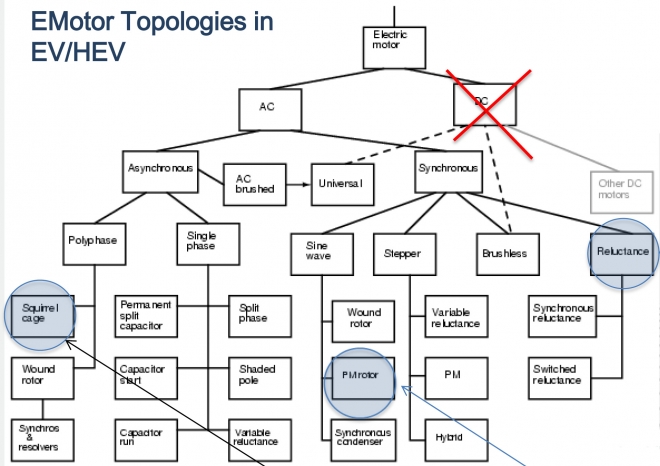 Electric circuit - (Cooper windings)
Create magnetig flux.

Magnetic circuit - (Iron/Magnets)
Carries the magnetic flux through stator and rotor

Cooling system - (Fluid)
Takes out the heat.
Insulation
Avoid shortcuts.
Axial flux machine / Radial flux machine