BMW - i8
This is the future, supercar buyers. If this is how it's to be, bring it on.' Top Gear review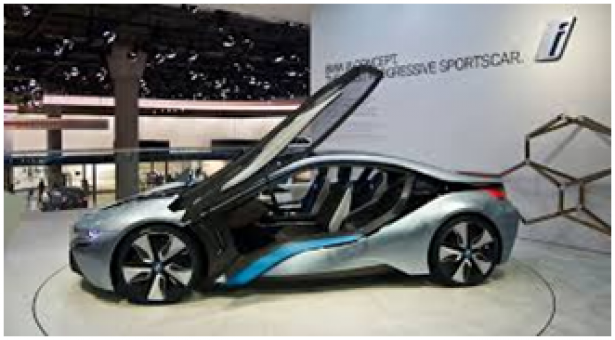 BMW claim that the i8 is the 'most progressive sports car' stating that it's consumption figures and emission values match that of a compact car. The impressive figures are achieved through a mixture of its construction, construction materials and its design, utilising the BMW EfficientDynamics features. The above may go some way to justify its impressive price tag which currently sits in the range of £104,485 – £112,480 depending on model specifications.
The BMW i8 is switched between hybrid and all electric modes by pressing the eDrive button. This is possible in the COMFORT and ECO PRO modes. In the COMFORT mode with eDrive, the BMW i8 drives without support from the engine. eDrive mode can produce speeds of up to 75 mph, with purely electrical driving.
Plug-in hybrid system
A powerful 131hp motor supplies the electric drive and it is located on the front axle. A potent BMW TwinPower Turbo 1.5-litre three-cylinder petrol engine located on the rear axle. Both drive systems combined will accelerate the BMW i8 from 0 to 62mph in 4.4 seconds – with fuel consumption of 134.5 mpg, and CO2 emissions of 49 g/km.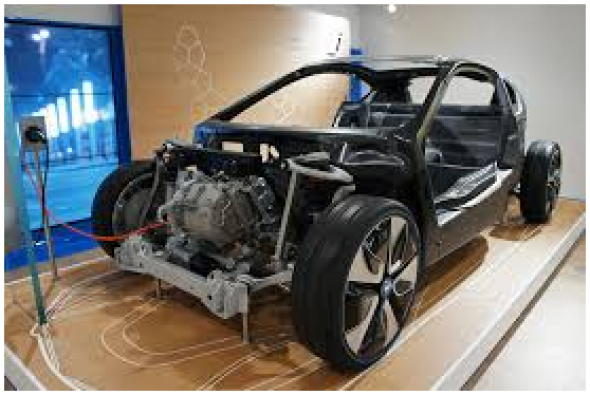 Energy management
High efficiency is maintained as a result of the perfect relationship and interaction between the eDrive technology and the TwinPower Turbo petrol engine. Both units adapt to the driving mode and situation, energy regeneration is maximised during driving and braking which in-turn increases the distance that can be driven in purely electric mode.
The BMW i8 has returned impressive figures of travelling up to 23 miles in full electric mode, whilst figures of 134.5mpg have been achieved in hybrid mode.
BMW i8 construction
Carbon fibre composite accounts for the majority of the passenger compartment of the BMW i8. Up to 50% lighter than steel and approximately 30% lighter than aluminium, this weight loss is dramatic yet no performance is lost in regards to safety and crash impact. The BMW i models are the first large production vehicles to have substantial sections made of this material.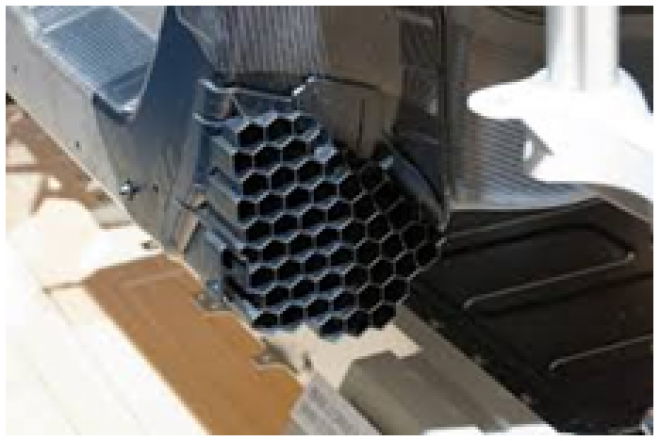 Battery
The BMW i8 uses a high voltage lithium ion battery capable of delivering voltages up to 400 volts.
This type of battery technology was first commercialised by Sony in 1991. Lithium ion batteries have no memory and are very low maintenance, they also have less of an impact on the environment than compared with other battery configurations and are less susceptible to self-discharge. They have been tested for reaction to fire and damage with no adverse effects. However there are some drawbacks such as high manufacturing costs and limited lifespan. The high-voltage lithium-ion battery of the BMW i8 carries a warranty for a period of 8 years or a distance of 100,000 km, whichever comes sooner.
Advantages
High energy density - potential for yet higher capacities.
Does not need prolonged priming when new. One regular charge is all that's needed.
Relatively low self-discharge - self-discharge is less than half that of nickel-based batteries.
Low Maintenance - no periodic discharge is needed; there is no memory.
Specialty cells can provide very high current to applications such as power tools.
Limitations
Requires protection circuit to maintain voltage and current within safe limits.
Subject to aging, even if not in use - storage in a cool place at 40% charge reduces the aging effect.
Transportation restrictions - shipment of larger quantities may be subject to regulatory control. This restriction does not apply to personal carry-on batteries.
Expensive to manufacture - about 40 percent higher in cost than nickel-cadmium.
Not fully mature - metals and chemicals are changing on a continuing basis.
(Battery University, 2016)
Consumption
CO2 emissions in g/km - [49.0] / - [49.0]
Tank capacity (ltr) 30
Tank capacity (gals) 6.6
Range and charging duration
Electric range in km - [37]
Capacity of lithium-ion battery in kWh 5.2
Standard charging AC with 16A (80%) 2.0
Electric range (mean customer value) in km - [30]
Performance
Top speed (km/h) - [250]
Acceleration 0-62 mph (sec) - [4.4]
Top speed fully electric in km/h - [120]
Weight
Unladen (EU) (kg) - [1560]
Max permissible (kg) - [1870]
Max permissible (lbs) - [4123]
Permitted load (kg) - [385]
Permitted load (lbs) - [849]
Permitted axle load, front/rear (kg) -/- [895/1010]
Permitted axle load, front/rear (lbs) -/- [1973/2227]
Engine Spec
Cylinders/valves per cylinder 3/4
Capacity (cc) 1499
Capacity (cinch) 91.00
Stroke/Bore (mm) 94.6/82.0
Stroke/Bore (inch) 3.70/3.20
Max torque (Nm/rpm) 320/3700
Compression ratio : 1 9.5
Electric engine Spec
Electric motor\: Output in kW (PS) 96
Electric motor\: Max. torque in Nm 250